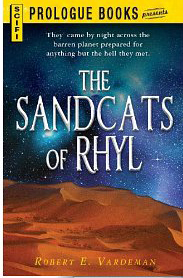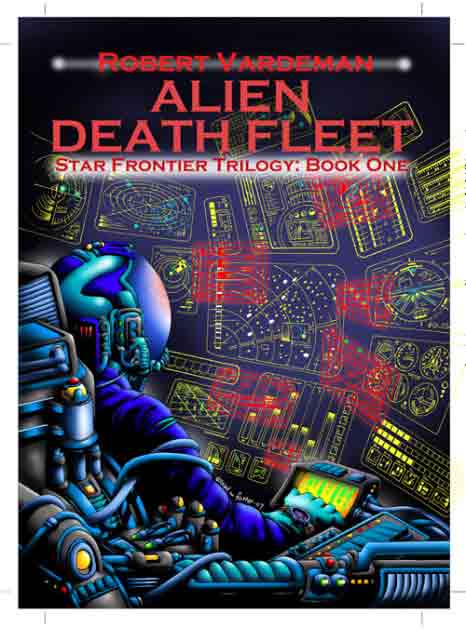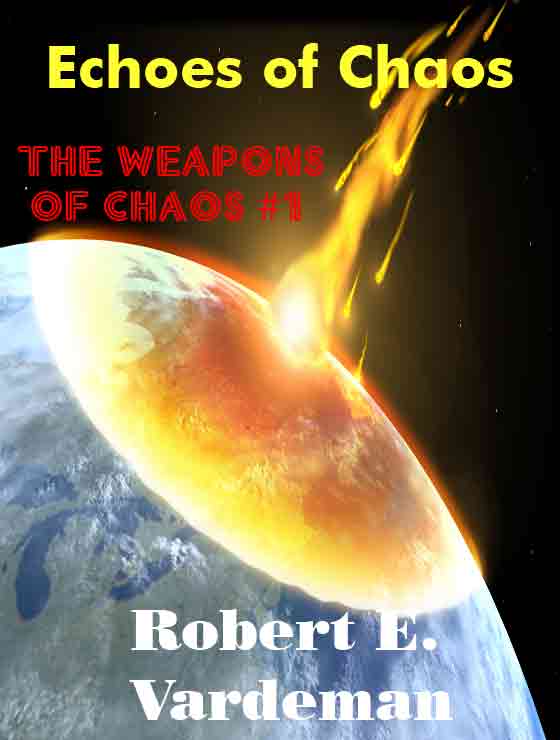 Click on the covers for more infomation
Welcome to the Cenotaph Road website,
Robert E. Vardeman proprietor
Space opera this week because I'm really getting into the rewrite on another epic, space-spanning, shoot-em-up titled Darklight Pirates. Give these a look-see until that one is ready for the pipeline.
Weird westerns! Be sure to check out the brand spanking new Tall Tales of the Weird West.
A week of getting banged up. Left hand is swollen after whacking my index finger on the side of a countertop. Since so many important vowels are on that hand (and this is half my typing fingers!) I have been taking it easier in hopes of healing. Since that's not working, going to painkillers and pressing on seems a better option. Time and space tides wait for no man, etc.
Mike Stackpole is sending pictures of his trip to a Star Wars con in St. Petersburg. Pix of the Hermitage are wonderful, as are the random shots around "the Venice of the north." He is off to Moscow now and will leave behind the snow for sunny AZ on Tuesday. I hope he wears his Captain America shirt in Red Square and gets a picture before the AK-47s open up on him. I sat in for him at his Second Life Office Hours last Wednesday but the room will be dark this week and he will return to regale us all with tales of Russia on May 6, appropriately close to May Day Parade (on May 9 this year).
It has been raining here, which is an oddity not seen recently. Even a touch of snow along the Crest, waaaay up high at the 10,500 ft level. A good thing my furnace is still turned on because the nights have been cold, so cold, in fact, that I woke the other other morning with two cats sleeping on top of me. When the summer comes, I fear, it will come fast. One day freezing at night, the next day highs in the 90s. IOW, a typical NM season.
Theatrical movies, Ex Machina is on tap for tomorrow. Jeff Ford really liked it and I am looking forward to seeing it to get the taste of a previously awful robot movie out of my brain.
Follow me on Twitter It's the small things in life... Or at least the 140 character ones.
Empires of Steam and Rust! Great news. ESR is featured as a scenario in a RPG from Lester Smith. Steve Sullivan did great work getting it ready to go. Check out his ESR novel Heart of Steam and Rust.
My e-books on the catalog page. Great stuff. Really.
iPad viewing:Finished Justified. Wow. Wow again. What a finale for the show, too. Amazing characters and writing. All were good but Walton Goggins stands out and shows how important a great bad guy is to a show like this. 5 eps into Daredevil and still not seeing what people like so much about it.
iPad reading: Got a biography of Houdini that looks like it will be worthwhile.
Dead tree reading: Finally got a copy of Herbert Asbury's Gangs of Chicago. I loved his other "Gangs" books (don't even think the movie Gangs of New York had anything to do with his nf book, other than the title). Fascinating history of Chicago, about which I know so little. I found that the first slave sold there was a white guy sold to a black man. Asbury holds Capone in low regard, preferring his predecessors as being the real villains. Colissimo and Torrino.
Regular cable stuff: Lost Girl finished its 2 parter and set up yet another character bidding a fond farewell (I assume this will last until next week). iZombie is still fun. Castle and the explanation of why he was missing for 2 months sucked.
Go here for the finest in fantasy, sword & sorcery fiction (and sf and mysteries and...) And in the for-free mode on my store, look in on a story from along the Cenotaph Road. White Fur.
Sample "The Cloud Train" here from the anthology 4 Lives.
Select from The Cenotaph Road Store!
The first three Raemllyn books
at the special price
Only $9.99


For my other online fiction, check out my CATALOG page or go straight to Amazon for both Kindle and print.
About the site. What follows is a glimpse at the science fiction and fantasy writing I've done, including the Cenotaph Road series, God of War™, Star Trek™ and BattleTech™/ MechWarrior™, Vor:The Maelstrom™, Crimson Skies™, Pathfinder™, Traveller™, what is current, and what might be forthcoming VIPub (Vertically Integrated Publishing) . Be sure to go to the Store link for free fiction and print and e-book publishing. Read ole Karl Lassiter's 2009 NM Book Award nominated novel, Drifter or the 2011 Scribe Award nominated God of War. Don't overlook the 2011 NM Book Award and WF Peacemaker nominee for best novel , Sonora Noose. Or the 2012 nominee for best anthology, Golden Reflections. Or the 2013 nominated China Jack. And 2014 the Fate of the Kinunir.
Enjoy!

---