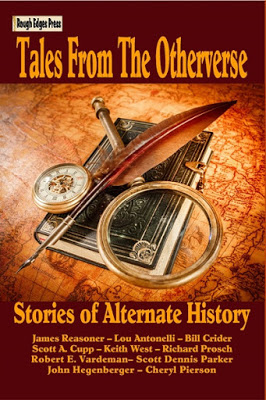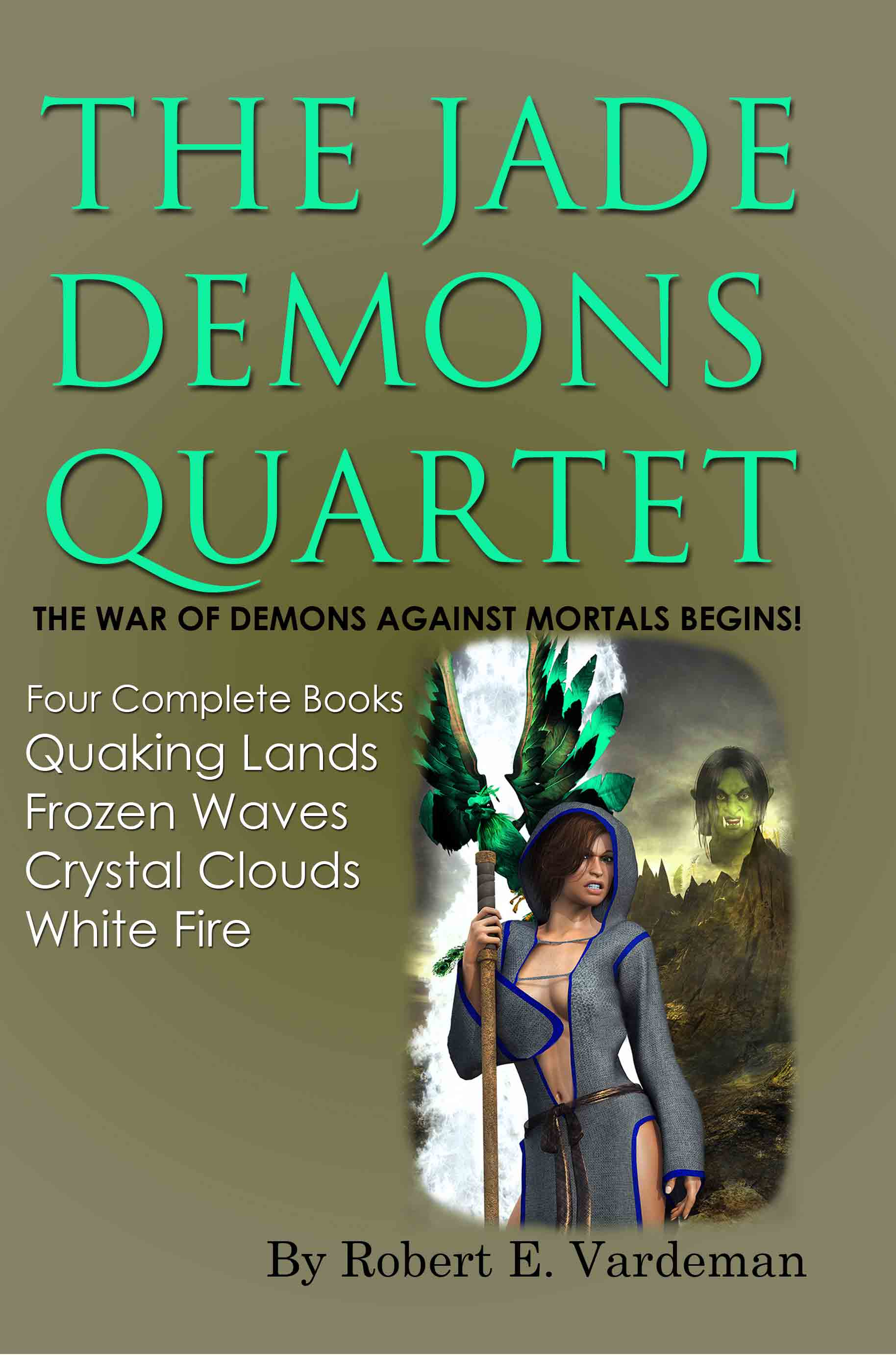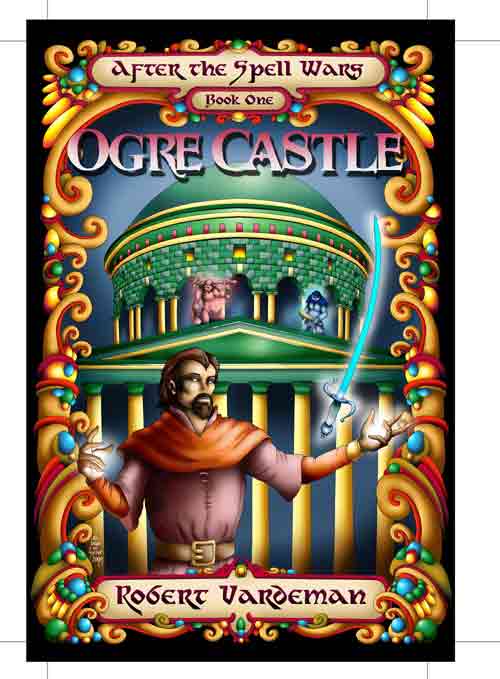 Click on the covers for more infomation
Welcome to the Cenotaph Road website,
Robert E. Vardeman proprietor
The Otherverse anthology is due any day now. Keep looking for it since it has my novella "Books Burning Brightly in the Night" and is an alt world set in the 1930s. The next above is a great deal. Four books--the entire Jade Demons set--for less than $10. And Ogre Castle is the first of a nifty fantasy trilogy, suitable for YA readers.
NaNoWriMo is winding down. I have maybe 10k left to finish the 50k slated. Hell's Half Acre is done and the remainder will be finishing off The Aztec Automaton Anomaly.
I've been asked for a weird western short story and a space opera novella. Both have got me psyched. I know exactly what I want to do for the space opera since it ties in with a new series bubbling about in my brain. The weird western is going to force me to choose between 1 of 3 possibles. The writeup for what is wanted reads more like xxx set in the west rather than western xxx. Wide open opportunities!
Have a blog post up at the ASU site. Check it out if you want to know why your story got rejected (and it's not necessarily because it's a piece of crap).
Two T'giving dinners coming up this week. So much for weight control. Adding to this (and the waistline) was my gift to myself. Finish Hells Half Acre and start the fruitcake. It is now smaller by several pieces. And it is as enjoyable as ever.
I can't believe it has been 10 years since Scott Phillips wrote, directed and filmed Wedding Slashers. The original cut was funny and had great performances by the Pajama Men. The version edited by the film's backer was a travesty, meaning it was so bad it was terrible. Scott even went the Alan Smithee route using Carlos Scott as his nom de guerre as director.
Since my Traveller book is no longer available through the usual channels, you can get a print copy (no ebook) from my store for a limited time (until my stock runs out. $15 plus shipping.)
Theatrical movies, Spectre wasn't as bad as everyone said. Not great but miles better than A Quantum of Solace. Christolf Walz was underutilized and the plot flow was pretty much identical to Tomorrow Never Dies. The new Tarantino movie is the next one I am looking forward to, and that might be next year. I have no love for nor expectation about the new Star Wars movie. The first one back in '77 was great. Duplicating its impact is not possible, especially after the last 5 abominations (each increasingly bad). And no, I am not an Empire Strikes Back fan.
Follow me on Twitter It's the small things in life... Or at least the 140 character ones.
Blog banter. New stuff after a long time about plotting a series arc.
While you are bouncing around, click the mailing list button above in the banner and learn stuff first hand. No regular schedule on the newsletter, so you won't be inundated. Really.
Empires of Steam and Rust! Great news. ESR is featured as a scenario in a RPG from Lester Smith. Steve Sullivan did great work getting it ready to go. Check out his ESR novel Heart of Steam and Rust.
My e-books on the catalog page. Great stuff.
iPad viewing: Man in the High Castle, season 1 just finished. Very nicely paranoid. Not sure if they intend a season 2. I'd watch if they do, but ending it here is ok, even if you never find out a thing about the man in the high castle or the provenance of the films. I read the book back in '62 and remember exactly nothing but the title so have no idea if Spotnitz followed the story or created it out of of whole cloth.
iPad reading: Welcome to Night Vale done. Disappointing, probably because it tried too much to be the podcast. The form doesn't translate well. Some funny stuff but only tidbits among a lot of boring words. Mostly I did not care about Jackie or Troy or Josh or Diane. What they did was tedious, not funny. Got a lot of choices to go to. Working on a history of China right now.
Regular cable stuff: Arrow and Flash. Getting closer to cancelling to cable.
Go here for the finest in fantasy, sword & sorcery fiction (and sf and mysteries and...) And in the for-free mode on my store, look in on a story from along the Cenotaph Road. White Fur.
Sample "The Cloud Train" here from the anthology 4 Lives.
Select from The Cenotaph Road Store!
$0.99!
Hidden lives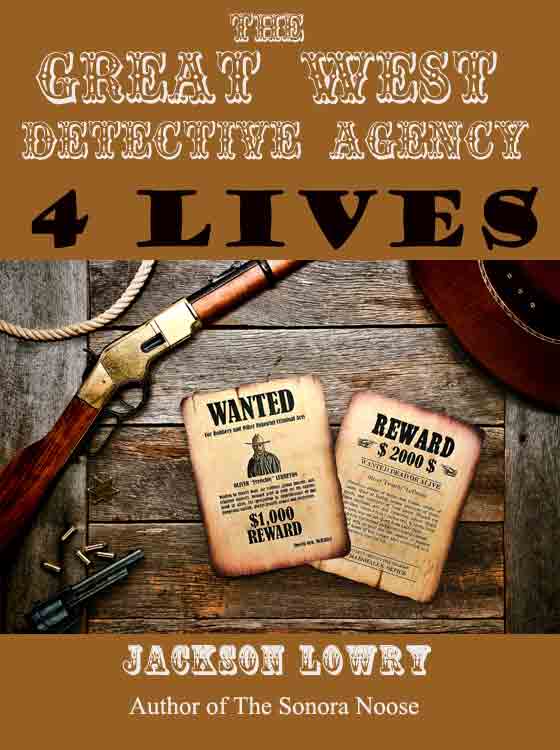 For my other online fiction, check out my CATALOG page or go straight to Amazon for both Kindle and print.
About the site. What follows is a glimpse at the science fiction and fantasy writing I've done, including the Cenotaph Road series, God of War™, Star Trek™ and BattleTech™/ MechWarrior™, Vor:The Maelstrom™, Crimson Skies™, Pathfinder™, Traveller™, what is current, and what might be forthcoming VIPub (Vertically Integrated Publishing) . Be sure to go to the Store link for free fiction and print and e-book publishing. Read ole Karl Lassiter's 2009 NM Book Award nominated novel, Drifter or the 2011 Scribe Award nominated God of War. Don't overlook the 2011 NM Book Award and WF Peacemaker nominee for best novel , Sonora Noose. Or the 2012 nominee for best anthology, Golden Reflections. Or the 2013 nominated China Jack. And 2014 the Fate of the Kinunir.
Enjoy!

---