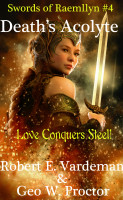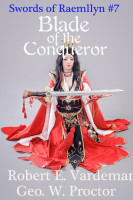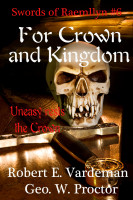 Click on the covers for more infomation
Welcome to the Cenotaph Road website,
Robert E. Vardeman proprietor
Been working to revamp the Swords of Raemllyn ebooks. Went through looking for typos again and then put new covers on the final six titles. Above are some of them via Smashwords. Check them all out. To Demons Bound is currently free. If you want anything other than Kindle, follow that click. Otherwise, until April 27, the first 50 folks can snag a free Amazon copy by clicking here. Make April your Raemllyn month. New covers, fresh content, great reading and adventure.
Looked over the proofs on my Straight Outta Tombstone weird western "Sixth World" and ok'd it. So all good to go on that front.
The Wolf Creek story (for the Fist of the Dragon mosaic novel) is turned in and apparently liked enough for inclusion. I amaze myself with how sleazy the Wil Marsh character is. This time around he's convincing the Wolf Creek gullible that he can take pictures of their soul--and charges mightily for it. This on his way to fixing a fight.
Spent chunks of the week doing business stuff as well as fun. Business included a FB seminar on how to pay them money for putting ads on FB. Scary listening to how specific they can get in targeting the right demographic. When The Major Arcanium Gazette gets going, I will give FB a try to see what traffic I can scare up. So if you are a left-handed heterochromic Lithuanian who stutters, you might be in my demographic. But it doesn't matter--FB has you pegged in their database.
The final science fair of the season was judged on Wednesday. Nothing outstanding this year but the 4th and 5th grade kids were incredibly enthusiastic about their projects and used tech that was unheard of a few years ago for the simplest things. One girl found what music lulled her two puppies to sleep fastest (not sure Adele wants to hear the results...) She watched them via a video link and had the iPad with her so we could watch the puppies streaming live. Another kid I hope learns something about systems, balances and how the world works, otherwise when he grows up he will suffocate us all. He was really, really enthusiastic about scrubbing all CO2 from the air. I did learn about the vaquita, the most endangered species in the world from the head of the Natural History Museum--thanks for the sobering info, Mike.
Theatrical movies: Nothing. And the trailer for the new Star Wars looked kinda boring, actually. For a while watching it, I thought it might be for a new Harry Potter movie. Really. It had the look and sound.
Follow me on Twitter It's the small things in life... Or at least the 140 character ones.
Blog banter. Newer stuff about weird westerns I've read.
My e-books on the catalog page. Great stuff.
iPad viewing: Need chewing gum for the mind. Watching Father Brown on Netflix. An inoffensive cozy series cashing in on the foibles of the British upper class.
iPad reading: Sneaking a few pages here and there on Jim Butcher's steampunk novel, trying to save it for a long upcoming trip. I need to read more of his stuff.
iPad listening: Pandora has become intolerable with several ads after every song or two. Over to Spotify where a short ad gives 30 min of music. At least for the time being.
Gohere for the finest in fantasy, sword & sorcery fiction (and sf and mysteries and...) And in the for-free mode on my store, look in on a story White Fur.
Sample "The Cloud Train" here from the anthology 4 Lives.
Select from The Cenotaph Road Store!
Death in shackles!
99 cents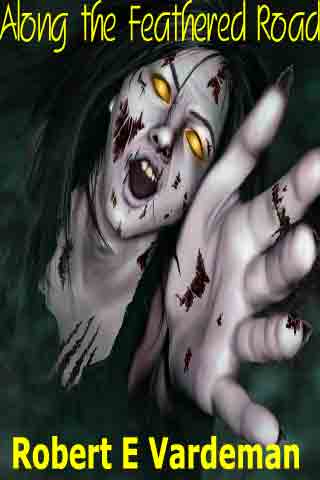 For my other online fiction, check out my CATALOG page or go straight to Amazon for both Kindle and print.
About the site. What follows is a glimpse at the science fiction and fantasy writing I've done, including the Cenotaph Road series, God of War™, Star Trek™ and BattleTech™/ MechWarrior™, Vor:The Maelstrom™, Crimson Skies™, Pathfinder™, Traveller™, what is current, and what might be forthcoming VIPub (Vertically Integrated Publishing) . Be sure to go to the Store link for free fiction and print and e-book publishing. Read ole Karl Lassiter's 2009 NM Book Award nominated novel, Drifter or the 2011 Scribe Award nominated God of War. Don't overlook the 2011 NM Book Award and WF Peacemaker nominee for best novel , Sonora Noose. Or the 2012 nominee for best anthology, Golden Reflections. Or the 2013 nominated China Jack, 2014 the Fate of the Kinunir and 2016 The Burning Man Anomaly.
Enjoy!

---