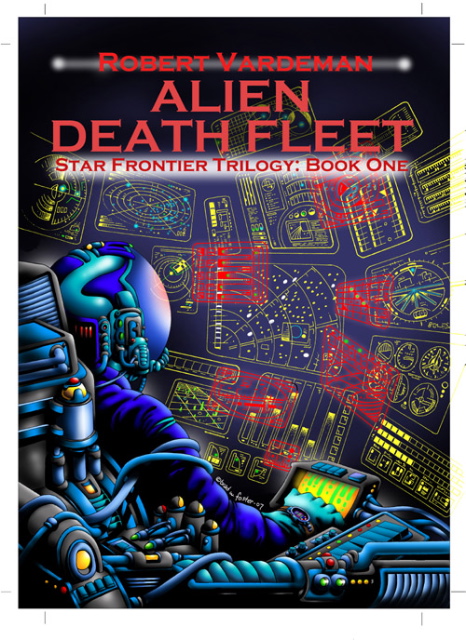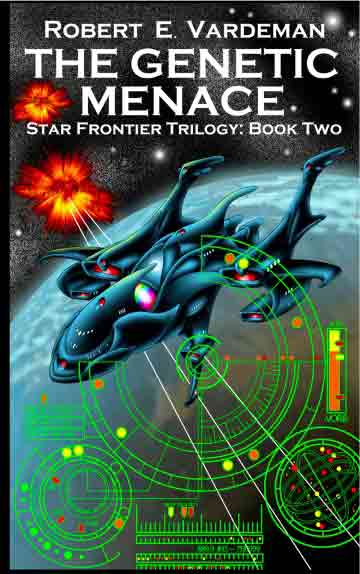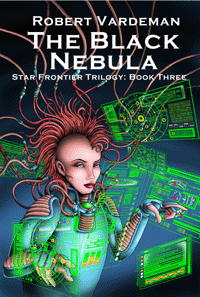 Click on the covers for more infomation
Welcome to the Cenotaph Road website,
Robert E. Vardeman proprietor
Twenty-five years in the making! At long last the complete Star Frontier trilogy is in print! Newly published (newly, as in for the first time ever) is Black Nebula. The great Brad Foster covers above link to different stores to purchase the ebooks, Amazon, Fictionwise and Barnes&Noble, but all the books are available in all those places (or will be within a day or two). It's good to see the Pageant titles finally come to life from Zumaya Otherworlds.
Life has been one of catching up rather than doing. This means a dangerous time for me because I start thinking up all kinds of new projects, then feel antsy about not getting to them right away. Got one that will have to go straight to VIPub ebook since I can't imagine any publisher touching it, but I need to get those final two chapts done on Darklight Pirates and hammer out a better synopsis done on the book for a kickstarter project launching RSN.
Been hard at work on fantasy football editing and reading mss for ASU's writing certification program. In a few minutes I'll start the critique for a thriller that came through the program. A very good book and one which might find a home from a big publisher. It's got some great characters and a plot that zips right along with personal menace and national threats.
The cat is doing fine after his surgery to remove 5" of intestine. If anything it has made him an even bigger food vacuum. He is active and the incision is healing nicely. Prognosis was good.
No lectures or outings worth mentioning since I'm sticking close to home lately. The cloudy weather has depressed me and the rain has been unusual for a desert. Last month's total was 2x the prior record. And it is supposed to rain tonight, too. Snow on the mts is mostly gone, but it is late for the white stuff up there (and condolences to those living on ice-bound Lake Superior and Michigan). Summer is supposed to be on its way next week, hitting 90 for the first time this year.
The editor liked all 10k words of "The Hideous Blood Ray." It will be in an original anthology out in a few months, maybe titled Weird Menace. I am looking forward to seeing it and the other stories. Pure '30s' pulp fiction!
Theatrical movies, Mad Max. I liked it. Not the greatest movie ever but it is quite a thrill ride, never letting you catch your breath for 2 hours. Nothing else of interest until Mr Holmes and that one has run afoul of the Conan Doyle estate. They have until July, I think, to resolve the copyright problems. After that, though it is with some trepidation, I am waiting for the Man from UNCLE movie.
Follow me on Twitter It's the small things in life... Or at least the 140 character ones.
Empires of Steam and Rust! Great news. ESR is featured as a scenario in a RPG from Lester Smith. Steve Sullivan did great work getting it ready to go. Check out his ESR novel Heart of Steam and Rust.
My e-books on the catalog page. Great stuff. Really.
iPad viewing: The Wire. Finished the fourth season and have 8 more eps to go in the final season. Interesting to see that schools in Baltimore are run like those in Abq and the mere mention of "tracking" brings shrieks of horror from the "professional" educators. Season 3 of Longmire done. Bring on the all new season 4!
iPad reading: The bio on Houdini continues to fascinate.
Regular cable stuff: nothing but Lost Girl. Saw that Stana Katic signed for season 8 of Castle. Too bad. The show has jumped the shark and she will be taken with it. I don't think Nathan Fillion has a problem with his career, not at all, post Firefly, post Castle, post whatever else comes along.
Go here for the finest in fantasy, sword & sorcery fiction (and sf and mysteries and...) And in the for-free mode on my store, look in on a story from along the Cenotaph Road. White Fur.
Sample "The Cloud Train" here from the anthology 4 Lives.
Select from The Cenotaph Road Store!
Gateway to Rust and Ruin
$2.99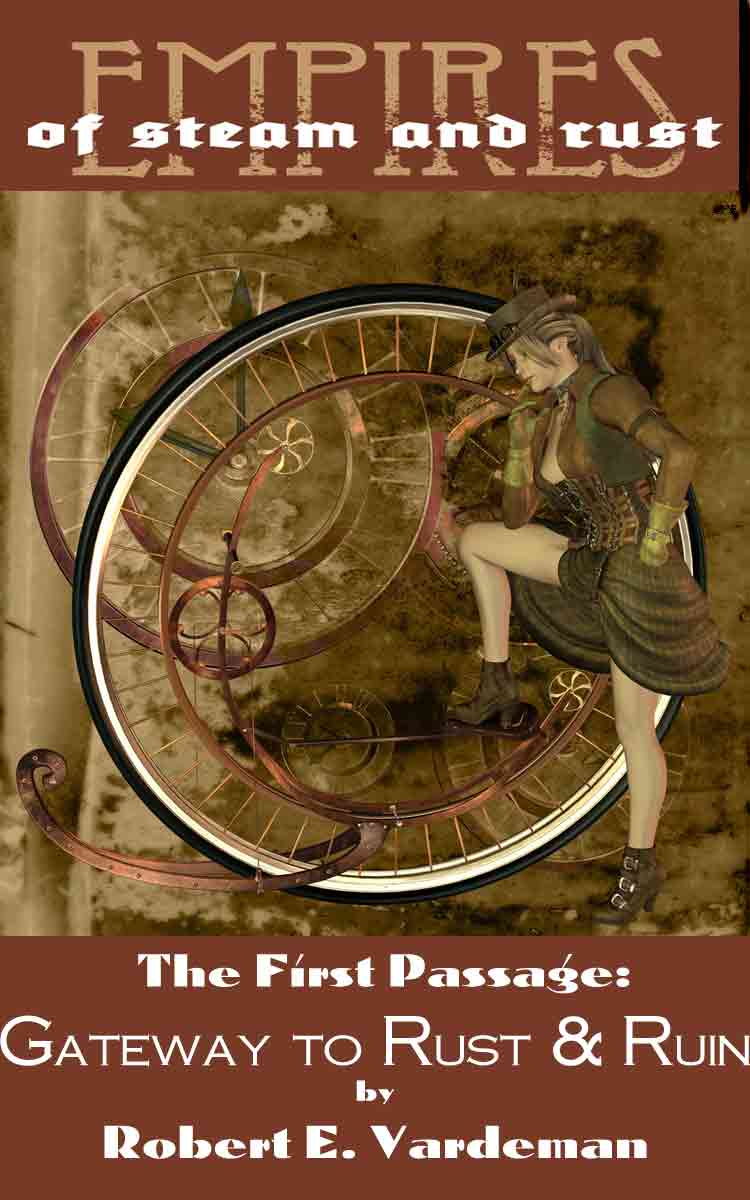 For my other online fiction, check out my CATALOG page or go straight to Amazon for both Kindle and print.
About the site. What follows is a glimpse at the science fiction and fantasy writing I've done, including the Cenotaph Road series, God of War™, Star Trek™ and BattleTech™/ MechWarrior™, Vor:The Maelstrom™, Crimson Skies™, Pathfinder™, Traveller™, what is current, and what might be forthcoming VIPub (Vertically Integrated Publishing) . Be sure to go to the Store link for free fiction and print and e-book publishing. Read ole Karl Lassiter's 2009 NM Book Award nominated novel, Drifter or the 2011 Scribe Award nominated God of War. Don't overlook the 2011 NM Book Award and WF Peacemaker nominee for best novel , Sonora Noose. Or the 2012 nominee for best anthology, Golden Reflections. Or the 2013 nominated China Jack. And 2014 the Fate of the Kinunir.
Enjoy!

---